by Kara Beck Wiesner
Starting on Lithium
This blog is about my experiences with getting off Lithium. The first 33 years of my life was filled with great loss, trauma, and illness.  I was heavily medicated, somewhere around 45 or more medications, for 20 years of my life for my mental health.  My past diagnoses began at age 15 and consist of Depression, Bipolar Disorder, Panic Disorder, Depersonalization, Derealization.  Since October 2017, I have been totally free from any psychotropic medication for my mental health.  It took me two years to slowly taper off of four psych meds completely.  I had tapered off of medications before, but only to have another medication replace it.  This specific blog describes my experiences while taking the drug, Lithium.
I first started taking Lithium when I was 19 years old.  My psychiatrist at the time had given me too high of a dose of my antidepressant as a desperate attempt to lift my disabling depression.  This increase created a manic episode.  I switched psychiatrists.  My new psychiatrist immediately recognized my mania and gave me the Bipolar I diagnosis.  He started me on Lithium.  It worked immediately.  Out of all my medications I took throughout my life, Lithium was hands down the quickest medication to take effect.  I stayed on Lithium for about a year, I think it was 300mg.  My Psychiatrist switched me on to other meds and took me off of the Lithium.  I did not notice many side effects or withdrawals from the Lithium at this time.  I was able to maintain my mental health for about four years.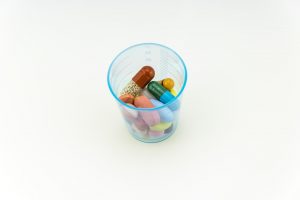 Polypharmacy
Fast forward four years later, I'm 23 years old.  Another Major Depression hit me after going off of my birth control pills.  So many medications thrown at me to desperately try to lift my deep depression.  Lithium was started again with other medications.  I was on so many medications that I can not tell you precisely what the Lithium caused for side effects, at age 23.  I do know that eventually I developed very shaky hands.  I had this the entire time I took Lithium.  In fact, I've been totally free of Lithium and any other drug since October 2017 and I still have a slight shake in my hands.  My therapist tells me that this is a side effect from the Lithium that never goes away.
I tapered off of Lithium four times in my life.  The second, third, and final tapers all effected my balance.  In fact, I was so dizzy the second time that I fell off of a chair I was standing on in my kitchen.  I was taking down my snowmen collection above the cabinets and totally lost my balance and fell off the chair.  It was surprising I didn't break anything… I give credit to my strong Scandinavian bones and love of cheese!
I was able to be free of Lithium (but on other medications for Bipolar Depression) for about another one or two years before having a severe reaction to Prednisone.  Eight months of torture with intense Panic Disorder resulted from the Prednisone.  This was the fourth time in my life experiencing a very severe, life threatening mental health crisis.  The new psychiatrist decided I should give Lithium a try again, after trying unsuccessful anti-anxiety meds. 
Lithium didn't help me at all this time, nothing did.  It was then I decided that I was going to face all my demons and past traumatic experiences head on and taper off all prescription drugs.  I found a supportive psychiatrist and I really got involved in the holistic world.  Acupuncture, Reiki, Family Constellation work, supplements, teas, were my new treatments and ultimate healing cures.  I got off of all the meds, including Lithium.  This time is was even more difficult to taper off of it.
I was taking Extended Release (ER) Lithium.  If it wasn't ER I had stomach pain from it.  I figured that out around the year 2006 during Major Depression number three when I was taking 900mg Lithium.  In 2015, when I had the Prednisone reaction, even the ER hurt my stomach.  But even water hurt my stomach then, so not sure if I could say Lithium ER caused GI upset or not.
Getting Off Lithium
When I first started tapering off of the Lithium ER, I didn't realize I couldn't split the pills.  I got horribly dizzy and my entire body ached.  It was agonizing to deal with.  A Pharmacist told me it was Lithium dumping because the seal around the tablet was broken, instead of gradually releasing the medication for about 12 hours, it was released all at once.  So I just started taking the dosing again, I believe it was 300mg ER at this time. 
I waited a few months and tried tapering again.  This time I was able to get 150mg pills, not ER but I needed a smaller dose to taper to, since I could not split the 300mg ER tablet.  This time the withdrawal went a bit easier.  Lots of crying and equilibrium was off a bit.  I would say that was the most noticeable withdrawal for me with the Lithium, lots of balance issues.  I ended up losing my balance and falling again, this time not as far of a fall and no injuries.
No matter what the drug is, there will be withdrawals to some extent.  I strongly believe it's all those trapped emotions finally coming out and being expressed.  It's going to be painful no matter what medication you're coming off of because the med was numbing all of that pain before.  From my experience with Lithium, I can tell you it worked immediately to take me out of mania.  I never had a medication work for me, definitely never this fast either.  So that was the positive of it and it did balance me a bit.  Although, for the 20 years of my life on medications life was very numb, which I took over the agony back then.
The side effect that affected me the most and stayed with me, even after almost two years free of Lithium is the hand shaking.  It is still present but not as noticeable as it once was, while taking 900mg Lithium ER.  The withdrawals were balance issues, falling.  If anyone is thinking of tapering off of Lithium I stress knowing if you're taking ER or not.  You can not split ER pills otherwise you will get the dumping effect and could feel extremely dizzy, nauseated, overdosed.  It can be dangerous.
After Lithium Withdrawal
I now am extremely healthy and happy.  I've really come to understand my incredible empathy and intuition.  My life before freedom from Psych meds was an intense journey at times.  I learned a lot about myself, my needs, my desires.  Now I own my own practice called Bounce Energy Healing.  I use Reiki, coaching, and music to help others realize their own unique abilities to heal themselves. 
It's really my true destiny, helping others.  I had to go through the trauma and pain to get here, but now I've transformed it into a pretty fantastic healing profession, and way of life.  I'm incredibly grateful for what Lithium, and all the other medications taught me.  They served their purpose and I'm incredibly blessed to be in a place where I no longer need their assistance.  I look forward to each day of this beautiful life I've created for myself.