For most meals, I find deciding what to eat and preparing it burdensome, but my breakfast I look forward to cooking and eating every morning. I already feel excited tonight that I get to prepare and eat my breakfast tomorrow morning, even while I eat the same breakfast every morning, pretty much.
On the off chance my breakfast (including preparation) inspires you even half as much as it inspires me, here it is:
Ingredients: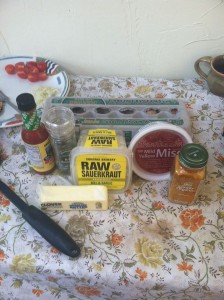 One large organic potato
4 organic eggs
3-5 organic baby tomatoes
1/8th stick organic butter
2 forkfuls sauerkraut
1t miso paste
3-5 olives
hot sauce
1T turmeric
Himalayan salt/Real Salt
freshly ground black pepper
any other spices/herbs you want
Directions:
Butter a pan and add sliced potato to fry on medium heat.
Once potato pieces are almost fully cooked, add a sliver more butter to the pan and crack 4 eggs in, without scrambling.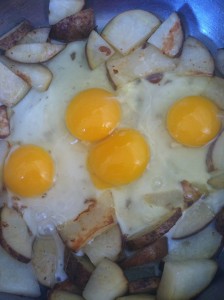 Turn heat to low and cover the pan so the eggs cook but stay runny.
Slice organic baby tomatoes in half and put them on a plate with the butter, sauerkraut, miso and olives.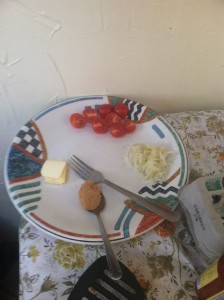 Once the egg whites are cooked, use a spatula to place them and the potatoes (still in the pan) on the plate on top of the other goodies.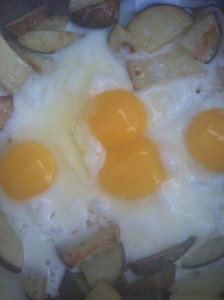 Add remaining ingredients.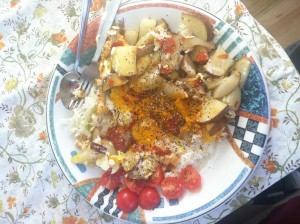 Are you excited about breakfast yet? Learning what foods I do best with is an ongoing process, something ever evolving, something I have been working on for as long as I can remember. Making the connection between what we eat and how we feel is an important step on the path of freedom from psychiatry and psychiatric drugs.
What foods excite you, ground you or make you feel good? How much have you explored nutrition as an alternative to psychiatry?
This will be one among many topics covered in my book Breaking Free From Psychiatric Drugs, designed to give you all the tools you need to make a complete getaway, in your own time.  Please join our book launch campaign to make sure this book can happen!