Moving has been called one of the most stressful experiences.
Moving around almost constantly for the past 2 years has been incredibly stressful and is starting to remind me of the process of coming off psych drugs.
That sense of constant instability, being much more dependent on others than I would like or than feels right, having to depend on those I don't trust, or even know, not having much to give back, being consistently in a certain "role" as a patient or as an outsider/new person in town/person looking for housing…
Published lists of the most stressful life events often also include "major illness", which is the only category that comes close to psychiatric drug withdrawal. Psychiatric drugs and withdrawal do cause major illness, but the social stresses, as well as biological ones, are unique and different from those someone who has been diagnosed with cancer are under.
In either case, things are complex and vary case to case.
Illness is never just illness. It is always wrapped up in how society responds to that illness, what we feel our options are, what caused the illness and how much inner and outer resource we have to relate with it, or even hear what it is communicating with us.
Moving is never just moving. It is always wrapped up in how society responds to new people in town, what resources and help are available, the reason for the move, and how much support, money, stamina and resilience we have to recognize and address the feelings and needs present.
In psychiatric drug withdrawal, as well as moving, there is usually an urgency, an emergency level of things, of a need for basic safety/homeostasis for the body that usually has to come before any meaning making or self reflection.
When I don't know where I will be sleeping, or whether I will be safe there, my adrenaline kicks in and I go into fight or flight.
When I didn't know what certain drugs were doing in my body, why I was experiencing panic or psychosis, which drug or drug withdrawal or combination of factors was causing it or how long it would last, or what would bring relief, well, of course I was in fight or flight.
Moving around and around has not been as hard as taking psychiatric drugs or having to withdraw from them, but it has brought up some of the same feelings of despair, hopelessness, defeat and rage.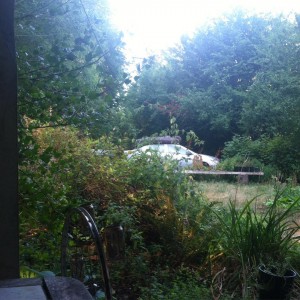 The similarity also lies in the power structure. When moving around as a tenant and going from landlord to landlord, I am consistently under someone else's power: to judge me, accept me or reject me as a tenant, assess my credibility, determine whether or not I will have a stable home where I feel welcome and safe.
On the surface, that is the reality I experience frequently. I am at the whim of preferences, decisions, and value judgments of property owners, most of whom have owned property for long enough that they don't remember or even know what it is like to have housing insecurity.
Similarly, most prescribing doctors and psychiatrists have had basic stability of their bodies, as well as finances, for a long enough time that it is nearly impossible for them to understand what their patients are going through in withdrawal.
When I was in psychiatric drug withdrawal, I was so worn down and weakened by the drugs that my nervous system never felt safe and my body had a very hard time detoxing. Yet, I couldn't get through it alone. I had to rely upon prescribing doctors, and other professionals and family members to support me, even though I often didn't trust them to know what was best for me.
Is there some medicine in all this? For me, these trying situations force me to come back to the only thing I can (maybe) trust at all: life itself, or some kind of higher calling.
When I have the least power on this earth, or feel that way, I am challenged to find another source of strength, and that strength can only come from beyond myself, from beyond any human power dynamics. My sense of home and health can only exist in a moment of following a higher calling.
And perhaps that's the only place it will ever exist anyway.