Learn how to support people (and/or yourself!) seeking to eat well during times of crisis, illness and change.
Out of some of the content in the first module of the Med Free Solutions Certificate Course (find all info on that here), I created an e-book for you. If you are interested in a lower cost, quick and simplified version of some of the information we worked with, this book is for you.

The course is much more extensive and interactive, but for those who don't have time for that…

this photo illustrated book with an easy to use shopping list and tons of quick meal idea templates is for you!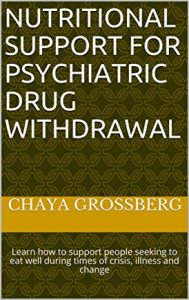 Learn how to support people seeking nutritional alternatives to psychiatric meds, or who are in withdrawal and need nutritional support. This book covers different considerations in how to support those looking to make nutritional adjustments.
You will learn about different body types, constitutions and nutritional needs, so you can be confident (and humble) in coaching or consulting with those those seeking support to be psychiatric med free (and/or yourself).
You will come away armed with ideas for different body types in all 4 seasons, and in different phases of withdrawal.
Helping people with their food choices in a way that isn't threatening, dogmatic or overwhelming is crucial.
What are go to easy foods for withdrawal and/or for people going through a lot of trauma who may not have the focus or energy to cook?
How can people with limited money and resources still eat well?
Learning about nutrition for yourself, as well as for others. How can you bring more strength and harmony to your life with nutrition?