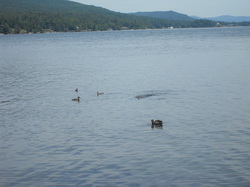 She is not your typical counselor or coach. She reads Tarot cards. She uses crystals. She does magic tricks on your soul. She meditates on you. She sets you up for synchronicity, healing and fruition.
Chaya Grossberg has been practicing and studying yoga and meditation for over
14 years and has practiced meditation daily for almost as long.  She has trained in
Integral, Iyengar, Kripalu (where she was certified in 2004) and other forms of
hatha yoga.  She has taught yoga at gyms, colleges, sports centers, libraries
and community centers, to children, adults, prenatal, differently abled
individuals and those with emotional struggles.  Teaching private lessons to
massage therapists for over 5 years, she also trained in Swedish massage at
San Francisco School of Massage and has practiced reiki for over 10 years.
From a young age, she has been intuitive and psychic, knowing things without
knowing how she knows them.  She has been giving intuitive readings to friends
for about 10 years and 5 years ago started to offer readings professionally,
using a variety of tools including reiki, tarot, numerology, astrology, and
automatic writing.  As people have been in awe of how she could know certain
things, she has felt drawn to further offer the art and gift of her intuition.
Chaya has also studied alternative medicine and alternatives to psychiatric drugs and is a wealth of knowledge and common sense about how to stay off of psychiatric drugs, if this is your choice.  She has spoken at many conferences on human rights in mental health and mental health alternatives including Alternatives, Mindfreedom Conference, NARPA and INTAR.  If you need help coming off psychiatric drugs or staying off, please contact Chaya for spiritual support, and practical information.
Ideas for Healing
There's a huge toolkit for alternatives to psychiatric drugs that work!  Nutrition and health guidance, yoga and meditation for mental health, personalized herbal remedies, reiki and distance reiki for energy balancing, Emotional Freedom Technique and massage for healing trauma, creativity coaching, spiritual exploration, redefining terms, and help accessing community to bring your unique gifts into the world.  Chaya does sessions in person, as well as by skype and phone.  Email support is also available.  Refined inutition is used.
From the very first time she heard the term depression, and learned what Prozac was, Chaya felt a sense of darkness and a mission to bring light to it.  Chaya has been studying nutrition, wellness, meditation and yoga for mental health for over 15 years.  She has taught yoga, meditation, nutrition, wellness, intuition, creative writing, improv and art to psychiatric survivors individually and in groups since 2003.  For the past five years she has refined her knowledge of herbal healing, wild and medicinal plants and balancing brain chemistry through nutrition and supplements.  Chaya has spoken at many conferences, sharing her own story of complete recovery from many labels of mental illnesses and being on almost all classes of psychiatric drugs.  She knows firsthand about the process of coming off psychiatric drugs and staying off.
Chaya has worked at Alternative to Meds Center, Western Mass Recovery Learning Community, Windhorse Associates and Freedom Center, bringing her passion for healing, and sharing love to many experiencing extreme states of consciousness.  She can also help you while you are tapering psychiatric drugs under the care of a doctor and/or help you find the right doctor for this process.  With her extensive background and passion for liberation, she helps you put all the pieces together to create the life of your dreams: free, healthy, abundant, powerful, creative and well informed.  Please book your appointment today.  You can also find Chaya Grossberg on skype and facebook.  Her poetry at chayaleah.wordpress.com and recordings at soundcloud.com/chaya-grossberg are available free.  They embrace the paradoxes of sanity and insanity and are shamanic heling journeys for many going through extreme states, or who have in the past.
Let Chaya into your world to honor and respect your journey, giving you the tools you need to be free.  She can help you prioritize and see what the key elements of your healing are, what's practical right now and how to put the puzzle pieces together!  Sending Love, the number one element of healing.  Follow your heart!  When it comes to your dreams, entertain unlimited thinking and soar in paradox.
Things That Can Help with Psychiatric Drug Withdrawal
In 2002 I was on a number of psychiatric drugs that messed with my physical and mental health.  Getting off of them was not easy for me and it took time.  But once I made the decision to do so, my conviction grew.  Each time I lowered my dose of a drug, new energy, vitality, strength, wisdom and intelligence returned to me.  It was quite a magical (and tedious) time.  I know there are many who feel they can never come off psychiatric drugs, or have tried but the challenges have been too intense.  I totally get this, for I felt that way too.  My challenges included extreme panic attacks, feeling like I was on speed, feeling completely insane (like I was "slipping off the edge of reality"), insomnia, other people pressuring me or not understanding, and so many more.   If you do decide to withdraw, remember that the effects you feel initially are withdrawal effects.  You are/were on a powerful substance and it takes time to detox.  It is similar to withdrawing from cigarettes, alcohol, speed, or any other intense substance that your system gets used to.  This is common sense, but in some cases the mental health system and the drugs rob us of our common sense.  They certainly did for me!
Here's what helped me:
Supplements.  I took lots of vitamins, minerals , superfoods and herbs while I withdrew.  Much more than I need to take now.  These can be expensive, especially high quality ones, but well worth it if you have the means.  Omegas (flax, chia, hemp, walnuts, fish) are important and regulate mood, B vitamins, calcium and magnesium help with relaxation, Vitamin C helps with immunity and recovery.
Nutrition.  When I was on psych drugs, I let me nutriion go a lot because I didn't care and didn't have the energy to cook.  Plus I was so toxic and like attracts like, so I sought out toxic low-nutrition foods.  Although i am vegetarian now, fish helped me a lot when I was withdrawing.  You know the basics about fruit, vegetables, whole grains, proteins, etc, so be willing to spend a little extra money for higher quality items if you have it.  Food stamps are a great resource if you need more money to afford high quality food.  Eating enough good fat is also very important.  Olive oil and coconut oil are the best and will help keep you calm and prevent you from overeating sugar and carbs which can cause anxiety and mood swings.
Walking.  Walking outdoors was one of my main pastimes when I was withdrawing.  It helped me get exercise, and breathe fresh air.  Time in nature and near water is balancing and healing.
Dance, yoga, weight lifting, whatever exercise you like.  Creative expression and releasing energy is important since as you withdraw you will have more.  More vigorous exercise may be necessary, just make sure you get enough rest too.  You are detoxing a lot of chemicals and exercise is necessary to do so.  Yoga can help relax your muscles, balance your brain, regulate blood pressure and improve your mood.
Sleep and rest.  Sleep as much as you need to/can during this time.  Your body, brain and consciousness need time outs.  Sometimes I stayed in bed all day.  Having trouble sleeping was one of the hardest withdrawal symptoms I experienced.  Melatonin, Valerian, and other herbs can help with sleep.  Acupuncture also works wonders.
Journaling.  Journaling helped me feel more grounded, keep track of my withdrawal reactions and note what was helping.  It also helped me tune into my intuition and think of ideas (and still does)!  You may be more drawn to drawing or other expressive arts.  After having my consciousness suppressed from drugs, I needed to express A LOT, and often in my own private space before I was ready to share with others.  Being harmed and violated by the mental health system can lower your trust in the world and other people, so taking time alone to rebuild your relationship with yourself first is very important.
Meditation.  Taking quiet time to tune in, listen to my intuitions and relax helped.
Massage/hands on healing/touch.  Touch is important for regulating hormones and improving mood.  Asking trusted friends to hold my hand, hug me, etc. were safe ways to get touch in addition to massages, and reiki.  This touch can come through animals and nature too.
Community.  Having friends to talk to, especially by phone, was necessary for me.  Having friends in other times zones or who I could call in the middle of the night was good.  People who would listen and not give too much advice or judgement tended to help me the most.  A lot of the time when I called someone in crisis, I needed them to just listen and be there with me.  An invaluable class of friends are those who have gone through or are going through something similar.
Please send me your own ideas, if you have gone through this process.  Sending you love, courage and the knowledge that all things are possible.  Be the miracle story!
Your Intuition
If you feel drawn to this page, you are intuitive yourself.  A large part of my journey of living free of psychiatric drugs has been about learning to trust and develop my intuition.  This intuition extends to my body, brain chemistry, moods, relationships, and basically every aspect of life, including money.  All of us are born with some intuition that can be built upon and developed.  I help those I work with develop their own intuition and ability to be an intuitive resource for others.  There are many regular practices I use and share that help initiate you to be your own intuitive and to share your growing intuitive strength with others.  This is the most fun part of our work together!  A big part of this is practice, and the practice is so rewarding and satisfying.  When I first started giving intuitive readings, I practiced on willing friends.  Now I initiate others into trusting their intuition by letting them practice on me.   This becomes part of our work if you feel called to open to these parts of your consciousness.  I would love to work with YOU on developing your intuitive capacity.  The best people for me to practice on were other intuitives who's channels were open and receptive to it.  Please don't hesitate to ask me if you have any questions about this or would like to try this type of coaching.
One of the most important parts about this mutual coaching, is that you will have the chance to read me.  Many practitioner/client relationships are one way streets where you have a suspicion there are things your healer is not telling you about themselves.  By reading me intuitively, you will see clearly that I am on a journey just like you-and you'll even get to tell me with confidence what you see!  This is a unique form of coaching that I have seen empower people many times!
Testimonials
I have had several intuitive readings by Chaya. The information she receives is clear, direct, and useful. I always apply her intuitions into my daily life. After sessions, I feel more alive yet centered. Chaya is a gifted healer and does it so naturally!
— Jessie Gagne, school teacher, energy healer, mom, Northampton, MA
Chaya has the gift of intuition! I've had the great opportunity to get her perspective on certain tough issues that were really racking my brain. The advice that she gives leaves one with the clear message of hope and choice, even in the most despairing situations. Her point of view on issues is really like the best gift ever. And she's super nice!
— Robyn Kralique, illustrator, San Francisco
Chaya's reads deep into our innermost thoughts and feelings, bringing to surface the parts of us we neglect to acknowledge or share with others, bringing them to light. She casts a meaningful and poetic perspective on events in our lives that we cannot see for ourselves. She accurately predicts events to occur, and guidance on specific concerns.
-Amelia Ngai, product designer, Stanford University, Daly City, CA